With each new version of Windows, new and innovative features are improving the overall user experience in different ways. Windows 10 PIN is rapidly gaining in popularity due to its advanced security features, and these security options include new sign-in options such as pin codes. You can enter a numeric PIN, or trace the pattern of gestures on the image, or you can use Windows Hello with the appropriate hardware – a biometric sign-in method that tracks your fingerprint, your face or your iris. Scans In this article, we'll show you how to add a PIN to your account in Windows 10.
If you've installed Windows 10 as opposed to an upgrade from Windows 10 or Windows 8.1, you may have noticed that after entering an email address and password to log in with a Microsoft account, you will be encouraged to set a code to unlock. Device Microsoft even said that it is better to use the password of your Microsoft account.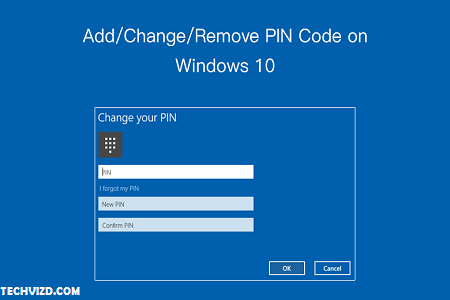 Why Use a PIN is a Better Choice?
If a password is compromised in any way, the person who has entered the system can access all the platforms associated with that password. On the other hand, if a PIN is compromised, they can only use it on this device. They cannot use it to sign in to your account on another device. In addition, the person must be physically present to enter the PIN, and this is not the case with the password.
If someone plunders your computer, they cannot sign in unless they know your PIN. Also, keep in mind that if you want to take advantage of the extra security features available in Windows 10, such as Windows Hello, Iris Reader, or fingerprint Scanner, the PIN login feature is a must.
Are PIN Codes More Secure than Passwords?
According to Microsoft, yes. The argument is that if someone looks at your shoulder while logging in and discovers the PIN, they only have access to the device and do not have full ownership of your Microsoft account. Once logged in, the importer will need to know the password of your current Microsoft account to change and take ownership, so when using PIN does not provide full protection, the amount of damage is limited but, there are other reasons to use PIN.
Passwords are often easier to guess because people relate to information that is relevant to them, such as the name of their pet or favorite celebrity. Estimating pins is more confusing and difficult, but if a cell phone number or date of birth is used, they can also be subject to the 'convenience' factor.
Faster login
What I've found about using a PIN instead of a password is to be able to log in quickly. I keep my desktop out of the habit, even when I'm alone, and even if you're not so fast with me, chances are you'll be away from your computer for a while. There is an opportunity to lock you automatically after staying.
I have two languages ​​installed on my notebook, and entering the password either requires checking which language is selected before typing, I have to enter the password and hope for the best, or correct after selecting the language, enter the password a second time. Which is very frustrating especially when I need to enter my password several times every hour? The second enemy is Caps Lock, and when Windows warns you that if Caps Lock is enabled, you'll need to press an additional key before entering the password.
Add a PIN to Your Account
Open the "Settings" app, and click / tap the "Accounts" icon. Click / tap "Sign In Options" on the left, and click the "Add" button below "PIN" on the right. If you are prompted to confirm your account password, enter your local account password and tap / OK. If you have a Microsoft account, enter your Microsoft account password and click / tap "Sign in".
After entering your password to confirm your identity, enter the number in a dialog box. The minimum length is four digits only 0-9 ؛ no letter or special letter is allowed, but your pin can be as long as you like. If you need to check what you have set up at this point, select the icon to the right of the dialog box. This will summarize the number you entered. The only criterion for selecting a PIN is that it must be at least four digits long. There are no limits on maximum length or complexity. Here are some considerations before choosing a pin:
Using more digits will make it harder to guess the PIN but make sure you can enter the PIN quickly and accurately, otherwise just using the password will be of no use.
Using a simple pin (0000, 0123, 1111, etc.) will make it much easier to estimate. Choose random numbers.
PINs from your bank accounts or credit card numbers should be avoided. Additionally, avoid using the same PIN on different devices.
Reset PIN for Your Account
Open the "Settings" app, and click / tap the "Accounts" icon.
Press / tap "Sign In Options" on the left, and click the "I forgot my PIN" link under "PIN" on the right.
Confirm your account password, and set a new PIN. Remember, if you boot into Safe Mode, you'll be able to sign in with your password, and not with any other sign-in options.
At the end of this article, it's easy to set up a PIN, and if you haven't yet enabled it on your device, do it now.
Change Your Account PIN
Open "Settings" app, and click / tap the "Accounts" icon.
Click / tap "Sign in Options" on the left, and "Tap" under "PIN" on the right.
Enter your current PIN at the top, enter a new PIN and tap "OK".
If you are unable to sign in to Windows 10 with your PIN, you will be offered a link called "Sign in Options".
When you choose this, you are presented with all the sign-in options you have created so far: Image password, PIN, Windows Hello, and regular password.